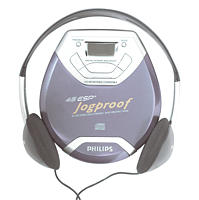 MSRP: $69.99

PHILIPS Portable CD Player
Brand/Model: PHL AX501817P

If you're someone who doesn't want to spend a fortune having an in-dash car stereo installed, but don't want to be entertained solely by the factory cassette player either, you need the AX5018! This Portable CD player offers continuous in-car music & is Jogproof with 45-Seconds of Electronic Skip Protection! This model includes Headphones, Belt-Clip, AC/DC Adaptor & Car Kit...so you can listen to those new CD's you picked up at Circuit City anywhere, whether you're on the go or in the car!