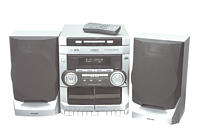 MSRP: $99.99

PHILIPS 10 Watt 3 CD Shelf System
Brand/Model: PHL FWC10037

Here's your key to great sound from Philips! The FWC10037 can produce superb tunes thanks to the clean & simple design. Plus the 3 CD Changer can play CD-Rs & CD-RWs, all encompassing a dual cassette deck, remote control & a multi-color display. With its full range bass reflex speakers, you can listen to a variety of music, like a champ!