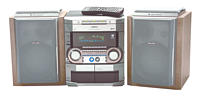 $299.99
PHILIPS 300 Watt 3 CD Shelf System
Brand/Model: PHL FWC87037

Look out, here comes the ìwOOxî! And Philip's is in the driverís seat with the FW-C870 mini-system, which can thrust out 300 Watts of total power! The wOOx technology ensures superior bass response because of the dual suspension & dedicated amplifier circuitry. The Sound Navigation features 18 different settings for the ultimate EQ! Plus you get a remote control, CD-R/CD-RW Compatibility & a 7-Band Spectrum Analyzer for a serious shelf system!