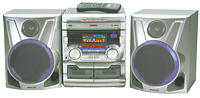 MSRP: $169.99

PHILIPS 100 Watt 3 CD Shelf System
Brand/Model: PHL FWM55M37

Check out Philipís latest innovative shelf system with the capability of MP3-CD playback! Yes, you heard it right, a mini system with the MP3 decoding format at an attractive price. You can custom tailor your music with Philipís own Variable Incredible Soundô and 26 digital sound control modes. And with up to 36 hours of continuous music with MP3-CDs, youíll have hours of listening pleasure!