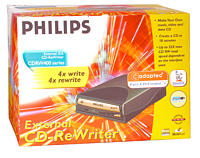 MSRP: $179.99

PHILIPS 4X4X6 External CD-RW Drive
Brand/Model: PHL PCRW464K

Feeling creative? What about storing those precious pictures or documents. The Philips 4x/4x/6x max external USB CD-RW drive kit is the fun and useful was to create music mixes, CD photo albums or store documentation. And since it is rewritable you can use the disc again and again, saving you money.