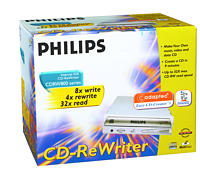 MSRP: $99.99

PHILIPS 8X4X32 Internal CD-RW Drive
Brand/Model: PHL PCRW804K

The Philips PCRW804K Internal CD-RW Drive will leave other CD-RW Drives in the dust with maximum speeds of 32X Read, 8X Write, and 4X Rewrite! And speaking of dust, the PCRW804K's Dust Proof Design will keep your CDs clean and skip-free. You can easily burn up to 650 MB (74 minutes) of your favorite music, photos, and data on each CD-R/CD-RW disc. That's over 450 times more storage capacity than a floppy disk!