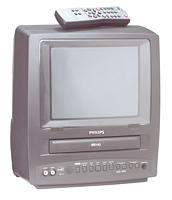 MSRP: $229.99

PHILIPS 9" AC/DC 2-Head TV/VCR Combo
Brand/Model: PHL CCC092AT

Watch TV or videos just about anywhere with this super-portable AC/DC 9íí TV-VCR Combo. The perfect solution when youíre pressed for space, but donít want to sacrifice your entertainment! Notable features include ShowGuard timer back-up for your programming, Smart Clock, S-VHS Playback, One-touch Record, front A/V jacks, and earphone jacks. The Sleep/Wake Timer lets you fall asleep or wake up to the TV playing ñ wherever you are!